Christmas Decorations – Indoors & Outdoors – Building & Street Tree Lighting
Christmas scenery & constructions for us here at Merillins means Arts, means expertise, and means expression and construction experience. Large buildings, streets, squares, shops, offices & Receptions companies, houses with large gardens etc are some of the jobs we undertake. The outdoor professional lighting requires products of exceptional strength and design. Merillins prepares elaborate photo technical studies over the entire range of architectural creativity (Professional Lighting, Domestic Lighting, Fiber Optics, and Display Lighting).

Merillins has an extensive list of goods and Christmas materials which it either imports or manufactures, such as: Large 3-D s lighted nativity scenes, Christmas polyester threads (Hand-made Angels & Santa Clauses, Plush deer, snow and stalactites treated pvc, large metal decorative Christmas wreaths, Christmas trees with metal exterior frame up to 15m high, special constructions, aluminum, plexiglass, wood and Styrofoam) and various other decorative materials to complete compositions. One more important service offered by our company in Christmas decorations is to print high resolution countless meters in vinyl, paper and sticker for glass and floor, giving a different picture in high buildings or facades and entrances of shopping centers and stores.

Our company also manufactures illuminated signs their size tailored to your needs, as well as Neon and other light manufacturing lighting sources. Do you want something strong, impressive and unique.? Come and create your setting that will give another dimension and prestige to your building, your offices, the street or square.

Our goal is our effective interference in the creation and presentation of a building, shop or any commercial space in a decorative work of Art.
---
3D Design & Constructions of 3-D Thematic Christmas Villages and Parks
Merillins can model almost any space, be it indoor or outdoor, on permanent or prefabricated seasonal scenery. It perfectly fits your needs promoting your facilities in the best possible way. Having an expertise in manufacturing XXL Christmas villages and seasonal constructions, our company has a number of 5-6 projects of oak houses of various sizes which it supplies and installs in a developing village (8-10 kiosks), ideal for using them in: Informing the audience, centers for distribution of all material , organization of Bazaars, Christmas decorations in squares, etc.

Also, "the fairy village of Santa Claus" is a set design production of our company with special polyester 3D framed structures with carved figures and sculptures which "travel" us to a Christmas Fair Tale Town where children and adults hide in their imagination. Snowy mountains surrounded by trees and lit with thousands of Christmas micro lamps, fairy constructions of Christmas tiny homes, families, snowmen, reindeer and deer in the mountains and forests of the Santa sleigh, frame the Christmas Fairy Tale country occupying an area of 500sqm. At the same time special and theatrical events and performances can be held across the entire scenery throughout the duration of the holiday season. Make your Christmas village this year and create your own Christmas story with 3D structures and spectacular scenery that can cover an area from 500sqm to 5000sqm and send your sales sky-high!!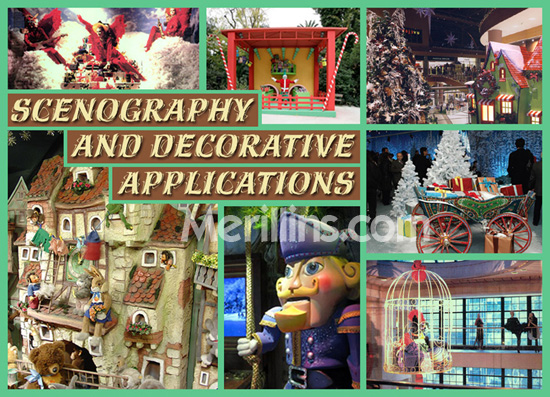 ---
Rentals & Operation of Luna Park Games - Traditional Carousel & Skating Rinks
Merillins has been engaged for many years in imports of toys and constructions of festive stages; more specifically, it introduces, rents, installs and operates during the period of Christmas and New Year, traditional (Antiques 1890) & Stream Carousel Roundabouts from England and Italy of 64, 36, 28 and 10 seats.

Carousel is a game that is synonymous with Christmas entertainment and is very popular around the world. We also import smaller Luna Park games with a capacity of 25 seats with an area of at least 25sqm, such as the Crazy Mill Super Cross and the Car Race. Merillins gives you the ability to rent equipment for the operation of a small playground or recreation park that could include: 3-D tiny houses, intelligent toys, electric trains capable of amusing up to 15 children at the same time, small Carousels, and a variety of inflatable toys. Our company undertakes the management and operation of the games with skilled technicians throughout the duration of the lease as well as their service.

Merillins has got the expertise and the knowhow in the leisure sector specializing for several decades in manufacturing ice rink systems. The rinks are of Austrian origin and assembled by skilled personnel. An ice rink is available in the minimum size of 15m x 15m (150sqm) and includes: wooden railing, skates pairs, a refrigeration machine with cooling liquid, pagodas 5m x 5m with lighting, ice scraper, plastic flooring, benches and shelves to support skates, special tires for maintenance of the ice, insulating materials etc.

The entire above facilities guarantee that ice skating will be possible everywhere and under all circumstances. And in the case of the construction and operation of the rink, full Service will be provided along with skilled personnel from our company.